Prospectors Gold and Gems (PG&G) is an important asset in the commercial gold mining infrastructure of Colorado…available to prospectors all over. It is also more than that, it's a one stop shop for a whole range of post-digging services small scale miners and active prospectors may desire.
Back in the late 90's you may recall there were lots of internet businesses sprouting up, successfully tempting their founders to drop out of college to make a go of a rapidly growing business. That is exactly what happened to Fort Collins based PG&G founder, David Emslie. He started the company to earn money while in college just like Michael Dell (Dell Computers founder) and many others in the 90's and before he knew it the business had hijacked his college career. The key difference is that David was studying Mining and Materials Engineering so in 1999 he started PG&G around his interests. At first the company focused on gems, jewelry making and jewelry-relevant metallurgy. In 2008, he responded to market demand by moving into gold and silver bullion production based on in-house refining systems he had designed and built.
Today he smelts and refines gold for a variety mines in Colorado (the gold from over 30 mine sites comes through his shop, including one you may have seen on TV on Friday nights running their mine in Fairplay!), as well as for small-scale, individual prospectors and even those with just scrap gold to reprocess. He also produces and sells Colorado-sourced bullion in various forms including some beautiful coins (technically they are called 'rounds' since they aren't legal tender and therefore not 'coins') in 999 pure gold or silver. The rounds are really gorgeous as you can see in the pic; PG&G works with a Colorado artist who designed a couple of the commemorative US state quarters to design their round making tools. If you want a gold coin celebrating the Colorado prospector, made with Colorado-mined metal, this is where to go. If you have gold to sell, he is always ready to buy gold, paying more than any local 'we buy gold' store or store-front jewelry shop.
David's jewelry making skills are also in demand, including designing and making custom jewelry from the gold prospectors bring to him. He will offer some design ideas and work with you to create what you want from your gold.  He can also make your gold into a small bar or 'coin'. Overall, he may be the only shop in the state offering end-to-end processing from raw mined gold to finished jewelry or bullion so if you want the gold you dig processed, check out what David can do for you at PG&G.
As a metallurgy expert, David warns prospectors and miners NOT to take their raw gold to a scrap gold refining service. Raw gold often includes different metals and other contaminants which scrap gold processors are unprepared to handle. I'd say PG&G has built its business around handling the complexities of raw gold, fresh from the ground, so come here first.
Pricing for refining starts at a modest fixed fee for small lots, so it is better to bring in at least a half ounce or so to get your best value, but PG&G is happy to process as little as 5 grams (about enough for one woman's ring or a guy's wedding band) if that is what you need done. For larger amounts, a percentage of gold value is charged; this means you will get the best pricing on refining if you process an ounce or more at a time. Their rates are the best around, so you can use PG&G with the confidence that you are getting a great deal.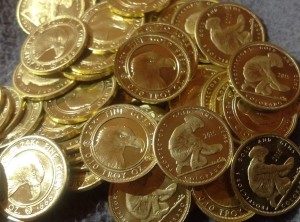 Also, small or large, their service is prompt and helpful so these are great prices for the service provided!
To learn more, reach out to PG&G via their website at https://prospectorsgoldandgems.com/ or call 970-797-0435. FYI, I don't get anything from PG&G for this recommendation.
This site costs money to keep up. The only way it makes money is shopping referrals. If you appreciate the info I'm sharing, please click thru one of my Amazon or Gold Cube ads the next time you want to shop online. It won't cost you anything extra and it keeps the site going:

You can also toss me a gift to say thanks at:
paypal.me/findingGOLDinCO