Stay at Middle Fork RV Resort in FairPlay, Colorado and you'll get to park your RV on dredge tailings. Most importantly, the resort allows those staying there to dig virgin dirt and pan or sluice it.
The virgin dirt comes from the east side of the property where the historic large scale dredging edge was. You want to dig the edge dirt with lots of river cobble in it. The resort has set up a comfortable panning area near the dig zone. To sluice, you'll have to haul dirt to the west side of the resort where the South Platte River runs by. It's not that far to walk but bring a hand cart or even an ATV…those buckets get heavy at 10,000 feet elevation where the air is thinner! As the water levels in the river drop through the summer, you also have the option of digging in the river. Doing so means digging dredge tailings since all of this was dredged decades ago. When I dug dredge tailings just upstream at the Fairplay Prospecting Park I found some fine gold but not the bigger stuff I found in the virgin dirt here at the RV Park. Of course your results may vary!
If you're lucky, while you are there, you'll get to meet Jane "the gold lady". She spends most of the summer staying at the resort as a guest and helps lots of folks learn to pan out of he kindness of her heart. She was a lot of fun to sluice with when I was there 🙂
The location of the resort is very convenient. It's right off of the intersection of US-285 and CO-9, on the south edge of Fairplay, within walking distance of the local National Forest Service Ranger Station, grocery store and auto parts store as well as several restaurants. I can recommend the beer and live music at the microbrewery next to the resort but skip their food, just not worth it!  To learn more about the resort, check out their website at:
http://www.middleforkrvresort.com
Be sure to ask for your AAA or AARP discount by the way!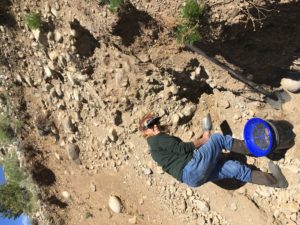 This site costs money to keep up. The only way it makes money is shopping referrals. If you appreciate the info I'm sharing, please click thru one of my ads the next time you want to shop online. It won't cost you anything extra and it keeps the site going:

Or just toss me a tip to say thanks at:
Also check out this site right upstream on the other side of highway 285:
Als