As a affiliate marketer I get fees if you buy certain products through my website. I ONLY recommend things I've used extensively and love. If you like the info here, please do buy through the links here, it's the only thing that covers the costs of running the site and it won't cost you extra.
Gold Pans: For use in the field I like the Proline Professional pan or the Garrett Supersluice pan. The dark green, wide smooth bottom of that big Garrett 15″ pan does an impressive job letting you see the smallest gold, even out in the field. You can buy the Garrett by clicking on the image:
For finish panning, I prefer something much smaller.  I use several at once so I found a good deal on a multi-pack. Again, click the image to order yours:
In-stream Sluices: I'm a big fan of the Grizzly Goldtrap line of products. It's almost the only sluice I use anymore. The fluid bed design eliminates classifying, is quick to set up, isn't finicky about sluicing angles, quick to clean out and catches the gold down to somewhere smaller than 100 mesh. Go to grizzlygoldtrap.com to check them out.
I also recommend a decent drop riffle sluice. My favorite is the Le Trap or something from the Angus Mackirk line. They are light weight and work in ultra shallow/low water conditions. I still c
arry a drop riffle sluice for times when there isn't enough water flow for my Goldtrap sluices. Both brands are available at local prospecting shops. Click the Le Trap image to see current pricing on the Le Trap.
In-Stream Sluice Stand: I like the new Snake River Products "Versa-Stand". They've made a stand that is easy to bungee almost any sluice to and with the forward canted legs it grabs the riverbed better than other stands. The powder coating means it'll look great for many years too. http://snakeriverproducts.com/?product=sluice-stand
Highbankers: There's really only one standout in the crowd – the Gold Cube. Add the trommel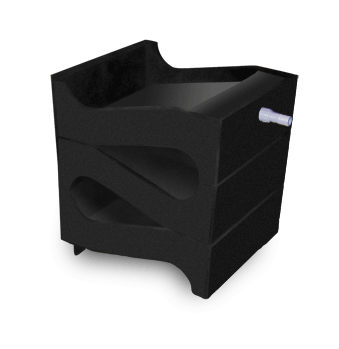 topper to it and you have the easiest operating, most efficient one-person mining operation around. Set up right on the gold in the stream, use only 1200-1500 gallons per hour (trust me, that ain't much so your battery lasts a long time) and catch really fine gold. They say "cube it or lose it" for a reason. Use this link to get one: https://goldcube.net/ or read more about the Gold Cube and its various accessories here: http://findinggoldincolorado.com/using-a-gold-cube-in-colorado/
Drywashers: In 2016 I switched from a big Keene 151 (worked fine but far too big for 1-2 people) to the very backpackable Whippet Drywasher. At under 15 pounds (including the battery!) its exceptionally easy to get to the dig site, even if you have a long hike from the road. Being a battery operated, puffer-style machine its quiet and pleasant to work around for hours. With a hopper which holds almost 5 gallons of material, it'll keep up with you as you dig! Finally, the precision design means it catches much more fine gold (-50 mesh, even -100 mesh) than the big Keene I used to run. Expensive, precision made, light weight, worth it! http://www.whippetengineering.com/ (seems the website is down at the moment) One caution, the owner recently (in 11/2016) let me know that they have several months of orders backlogged…so if you order, be patient!
Finish Processing Gear: Take a look at this post on what to use and how to do your finish processing of your concentrates without fancy equipment. http://findinggoldincolorado.com/finish-processing-your-concentrates-after-a-day-of-digging/
PLEASE HELP ME MAKE THIS SITE BETTER: If you find a dead web link, please, please drop me a line about it or just post a comment. I WILL FIX IT!!
Also consider joining the Facebook group 'Finding Gold in Colorado' to join the community of Colorado oriented gold prospectors and adventurers. Get your questions answered, advice found and prospecting buddies arranged too!
This site costs money to keep up. The only way it pays for itself is shopping referrals. If you appreciate the info here, please click thru one of my Amazon ads the next time you want to shop online. It won't cost you anything extra and it keeps the site going:

At some point, many casual prospectors get the itch to own their own claim. Then the discussion comes up about buying one vs. locating their own. Buying seems simpler to many but is rife with risks that lead to needing to do many of the same things as locating your own new claim requires. In […]
Posted in
Gold prospecting tools & techniques
Tagged

Colorado gold mining, colorado mining, Colorado placer claim, federal mining claim, finding your own mining claim, gold mining, gold prospecting, locating a mining claim, Mining claim filing, Mining claim research, Placer claim filing, placer gold, recording a mining claim
1 Comment