Rattlesnake Gulch is a historic area north of Delta off Highway 50. It was private (railroad) land which the BLM reacquired so it's open to panning but can't be claimed! The turnoff is between mile marker 60-61on Highway 50 and is marked well (Rattlesnake Gulch Rd 730). The old road down to the Gunnison River is not bad but once you turn left to drive upstream along the railroad tracks, it is in rough shape, high clearance vehicles only are advised.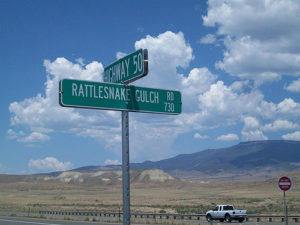 Years ago some holes were dug up on dry land around here, you'll still see some of the diggings. This led to BLM concerns so they increased restrictions on what we can do on this land. Disappointing but I'm very happy the creation of the National Conservation Area here included prospecting as an approved activity. They could easily have banned us altogether!
Here's what we are allowed to do, from the Dominguez-Escalante National Conservation Area Resource Management Plan p. 47 (document p. 97):
REC-AU-06: Allow casual use recreational gold panning in the NCA. Panning will be restricted to collection of material with non-motorized and non-mechanized equipment below the surface of the water. It will also be restricted to processing of material with non-motorized and non-mechanized equipment (e.g., underwater sluices). Re-evaluate if resource conditions warrant restrictions or closures. Close the D-E NCA to all other forms of recreational prospecting.
https://eplanning.blm.gov/epl-front-office/projects/lup/33152/94911/114794/D-E_NCA_ROD-ARMP.pdf
Signage at the site provides a simpler version of the prospecting rules at this unclaimable site but gives the impression sluices are forbidden…darn.
There may be seasonal closures for fish spawning or other concerns so ask the local BLM office before you head out. http://www.blm.gov/office/grand-junction-field-office
Also remember, this is pans only, sorry no mechanized gear.
When I visited this site in August 2017, water levels were still quite high but I was able to pan easily in a couple nice spots. The gold here is good, 5-15 colors per pan; some decent sized flakes but not what I'd call large.
You can also camp in this area. Check out the shady sites under the cottonwood trees which are right in front of you as you cross the railroad tracks. There are no facilities of any kind so come prepared to be self-contained but hey, it's free! Oh, and the gold is good there too 🙂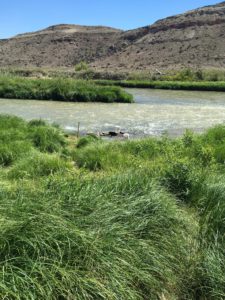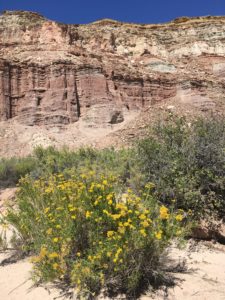 This site costs money to keep up. The only way it makes money is shopping referrals. If you appreciate the info here, please click thru one of my Amazon ads the next time you want to shop online. It won't cost you anything extra and it keeps the site going: