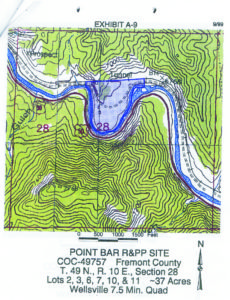 Point Barr is unclaimable land on the Arkansas River where you can drive right to the riverside and get to digging! Well, sort of…more on that later.
The gold here is the typical fine Arkansas River material. This means fairly consistent in size – small! This means it would be the ideal place to run a Gold Cube; read about that prospecting tool here:
http://findinggoldincolorado.com/using-a-gold-cube-in-colorado/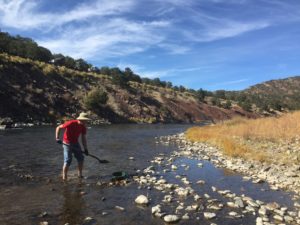 As you can guess from the map of the 37 acre site above (almost as big as two mining claims!), there's plenty of river to work here and plenty of dry camping space too. The BLM allows dry camping which means you have to bring everything you need and pack it all out too.
The tricky part is access. Coming west on Highway 50 from Pueblo, the turnoff to Point Barr takes you to a road that runs along the water at times. When the water is high this road can be closed or risky…4WD and high clearance is always recommended. Expect high water in June and July due to runoff as the high mountain snows melt.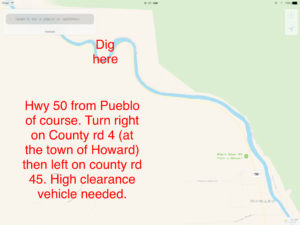 Driving east from Salida is easier with a decent road the whole way. Well almost. About a mile from Point Barr, the road is washed out such that cars can't get thru so it's temporarily blocked off. You can still walk or dirt bike in this way. Supposedly, the BLM, the county, and the rail road are working out plans to fix the washout so access may be restored sometime soon…or maybe some day. Please let me know if you go this way and find that you are able to turn left after you go under the railroad and then drive all the way to Point Barr. From Highway 50, here's the sign to look for near Wellsville: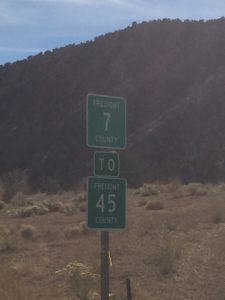 This route is a paved, then well graded dirt road. However just after the road turns under the railroad tracks, it's washed out in the easterly direction (to the left toward Point Barr) so you have to turn right and park there. There IS parking just around the corner. From the parking, it was a 15-20 minute flat walk along the road to the public prospecting area.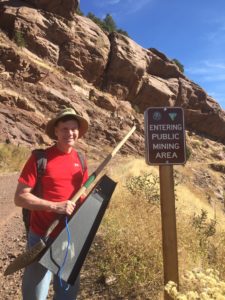 If you are just sluicing as I was in late October 2016, that's just fine. Otherwise you'll want to drive in from the south until the BLM is able to fix the road.
Anyway, as you can see the borders of the public mining area are well marked. There are private claims just upstream and downstream so please do look for the signs 🙂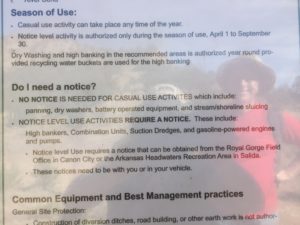 There's a sign with rules on site. I've also included the link below to my prior article which will get you to the BLM info pages on this site (as well as many other places you are welcome to dig!).
Note: you will variously see this site called "Point Bar" and Point Barr". I have chosen the latter name since it is more unique…there are lots of point bars in lots of rivers but only this Point Barr.
Related post: another public location near here: http://findinggoldincolorado.com/cache-creek-prospecting-site/
This site costs money to keep up. The only way it makes money is shopping referrals. If you appreciate the info here, please click thru one of my Amazon ads the next time you want to shop online. It won't cost you anything extra and it keeps the site going: