I think most of us have climbed around on old tailings piles, or walked a creekbed, while picking up interesting stones. As gold prospectors we are attracted to rocks that aren't just pretty, they provide intriguing clues pointing us toward gold. Of course you need to know what mineral you've found to learn whether it is really a good clue or even valuable itself.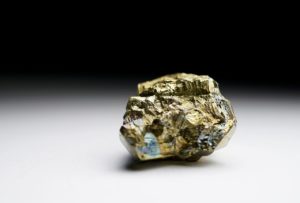 Here are some ways to get interesting mineral specimens identified…
1. The Colorado School of Mines Geology Museum in Golden, Colorado does free, in-person examinations of your samples. Just go to the museum on Tuesday or Thursday between 10am and noon.  If you have questions, you can contact them at 303-273-3815 or geomuseum@mines.edu If you mail them your sample, be sure to send a big enough piece to make identification easy and realize they won't mail it back.
This entire museum is also free to visit. It has some impressive gold specimens and lots of other minerals. Their collection is much bigger than what they can display so they use part of their space for rotating exhibits. Don't worry, the gold is ALWAYS on display…funny how that works 😉 The museum is worth a visit (and a whole other blog post, honestly) even if you don't have a sample you want identified. Learn more about the museum here: http://www.mines.edu/Geology_Museum
2. As part of their Geo-scientist training and community outreach, the Metropolitan State College of Denver, Department of Earth & Atmospheric Science, Professional Services Division offers free mineral specimen identification. Doing this doesn't just help you, it will help educate future Geoscientists! Details and specimen submittal forms with instructions can be downloaded from:
http://college.earthscienceeducation.net/MIN/MINID.pdf
Dr "K" and his students have been taking on the "name that rock" challenge and winning for years. See if you can stump them 🙂
3. Buy a book and puzzle it out from there. Sounds hard to me but here's the book:
Regardless of how you get your mineral identified, I hope you get good news!!
This site costs money to keep up. The only way it makes money is shopping referrals. If you appreciate the info I'm sharing, please click thru one of my Amazon or Gold Cube ads the next time you want to shop online. It won't cost you anything extra and it keeps the site going:
Or just toss me a tip to say thanks 🙂