I think many of us know to look for gold where it's been found before. This can naturally lead to an interest in history and old maps. That has certainly been true for me. So it's no surprise that my wife turned me on to this talk and I just have to share it with you all. Here's the summary of the talk from the host website:
"In this episode [of Denver Eclectics], Wesley Brown will present, How the 1859 Gold Rush Put Colorado on the Map, Mayoral-appointed Commissioner of the Denver Public Library and collector, student and author of old maps for thirty years. In the spring of 1858, Colorado's Front Range area was uncharted and inhabited only by natives. But by the close of 1859, 100,000 fortune seekers had thoroughly explored the Front Range, north of Pueblo to the Wyoming border. In their quest for gold, they left their footprints on the landscape, establishing dozens of settlements and blazing numerous trails. This slide show and lecture will teach you about Colorado's gold rush and how this important chapter of history influenced Colorado maps of today."
http://www.denvereclectics.com/ev103.htm
One of his cool slides: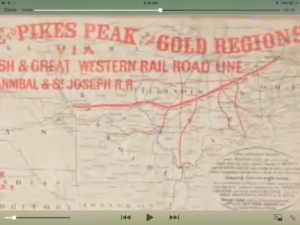 A big thanks to Denver Eclectics and Wes Brown for this presentation. I thought it deserved more visibility in the Colorado prospecting community so enjoy!
PS I did notice one factual error late in his presentation…can you spot it?
This site costs money to keep up. The only way it pays for itself is shopping referrals. If you appreciate the info here, please click thru one of my Amazon ads the next time you want to shop online. It won't cost you anything extra and it keeps the site going: