This is a spot you have to see to believe! Big Bend has good gold and lots of it! It's officially called Steele Street Open Space Park and is part of the Adams County Open Space parks. You arrive at a parking lot on Steele Street just north of 78th Ave. it doesn't look like much from here, you'll just have to trust me and walk to the rec path that parallels the river. At this point you'll see a large cobble bar across the river:

Wow right?… Well, sort of. Other than in low water winter conditions, it's rough getting over there (legally) as you have to ford the river with your gear. BUT don't worry, I have another option for you that's just as good…maybe better 🙂
Turn left onto the rec path to enjoy a view of the old railroad bridge (or maybe the new light rail bridge by the time you get there):

Walk under the bridge and you'll find this giant, gold bearing cobble bar on "our" side of the river:
 Continue along the paved path and you'll find a well used dirt path down to the bar. Enjoy!
This place is even bigger than my photos can show you. It's a great spot to bring a group or kids! As always, please pack out any trash you see in your work area and knock down any water diversions or cobble piles so other park users don't find reason to complain about us prospectors.
The gold here: As usual in Colorado it's pretty small, mostly -30 mesh with plenty of -50. The downstream end of the bar has lots of -100 mesh which many people will have a hard time seeing in the pan! I have seen one picture of a small nugget found here so if you are classifying your material, keep an eye out for the next nugget 😉
Digging tips: usually the top 6 inches have the best gold. You can usually set up a sluice in your choice of spots near the upstream end of the dry cobble. Often I find there's no need to haul buckets around as the gold right next to my sluice is quite good. On the other hand, this bar is over 1/4 mile long and there are some definite hot spots to reward those who do a lot of sampling. You'll have a hard time setting up a sluice further downstream so an electric highbanker (sorry, no gasoline motors allowed) or a Gold Cube would be the right tool for the job. It was this spot that convinced me to build a highbanker from my Bazooka Goldtrap Sniper but that's a story for another day!
After digging: If you drive back along 78th a couple blocks west (past the horse stables and the Catholic school) to York St, you'll find a little convenience store with snacks and drinks…that's about all that's close by here.
One last pic, this is a panoramic of the whole bar…omg where to start?!
Here's the exact location for your GPS: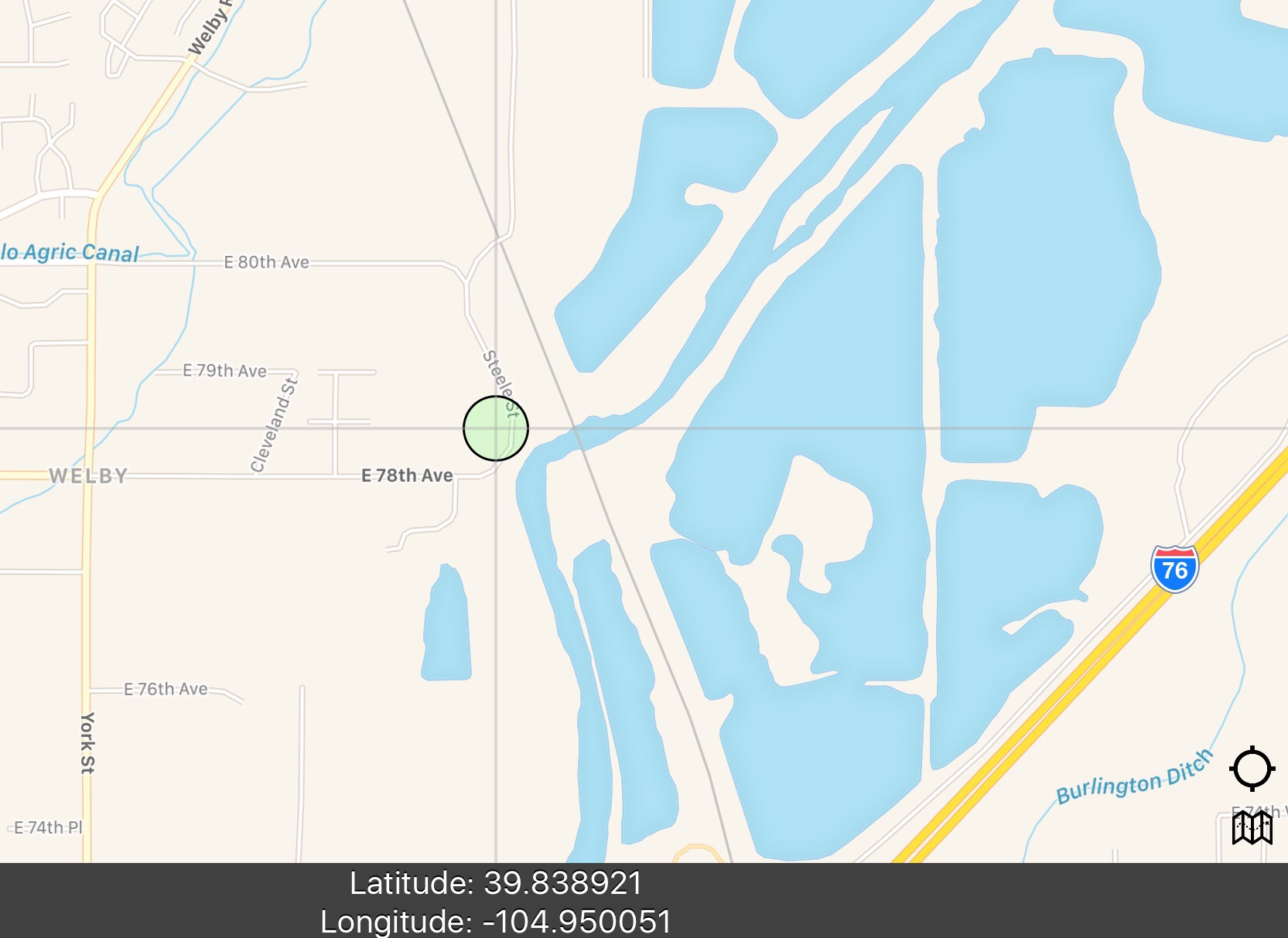 For weblinks, see this post: http://findinggoldincolorado.com/where-to-start-if-you-want-to-dig-in-colorado/
This site costs money to keep up. The only way it pays for itself is shopping referrals. If you appreciate the info here, please click thru one of my Amazon ads the next time you want to shop online. It won't cost you anything extra and it keeps the site going:

If you want more prospecting adventures in this area, you can also hit the parks just north at 80th, 88th and 120th Avenues. What fun!!