Well, this is a bad news, good news story.
But first, a little background. Grant-Frontier Park is on the South Platte River just South of Evans Ave (and west of Santa Fe) in central Denver. This has been a popular gold prospecting location since the very beginning of US citizens coming west to prospect in what is now Colorado. It was the first "permanent" settlement in what's now Denver and of course that first town was built by gold prospectors. In 1859 they built three rows of log cabins on the east bank of the current park because there was a promising gold deposit here. However, by the end of the summer, the miners had decided to move down to the new Auraria town forming near the confluence of The South Platte and Cherry Creek. They did this by floating their cabin logs downstream!
In more modern times, this has been a popular site for summer camps to teach kids to gold pan due to ample parking and easy access to the water. It's also been very popular with local prospectors because the gold is pretty darn good. This is partly because there's only 0-4 feet of gravel/cobble on top of a soft slate/clay bedrock. It's a special thing to be able to dig down to bedrock right in town…in fact I can only think of one other major spot like that, which will have to wait for another post 😉
So now the bad news: The most popular area with local prospectors has been the area just downstream from the pedestrian bridge over the river. Sadly, last year some of the best ground with easy access was manicured into a faux panning stream. Please avoid the developed area and only dig in the riverbed itself…that's where the gold is anyway 😉 For good gold, try the riverbed just upstream (or maybe just downstream?), of the manicured area. Look for potholes in the bedrock which are filled with sand and gravel and rocks…and gold!
And happily the good news: There's still good gold here just upstream of the manicured & sculpted area. Access from the parking lot on the west side of the river is good-to-go! Here's a shot looking upstream from the pedestrian bridge:
Completely different from the downstream view. Pristine, unmanicured and ready for your visit, right? I have a friend who found a gold nugget right in this area : )
Cleaning out bedrock cracks right under the bridge can be productive too. I personally saw a nice fat 3-D picker pulled out of a crack in March 2017…they are still out there folks!
Here's a shot of the west side parking lot. I've never seen it full but there's also informal parking just north of the lot (behind me as I took this picture).

If you walk straight to the river from those cars you can have some fun getting gold! I've seen decent sized flakes here myself and heard credible stories of pickers from those who've worked the bedrock. I also met a guy who'd come back several times a year to clean out the same pothole over and over…often getting 1/2-1 gram of gold each time with nothing more than a shovel, turkey baster (for sucking bedrock cracks) and a gold pan!! Personally, I think a hand powered suction pump would work better. I use the Gold-N-Sand hand pump.
How's the gold prospecting? Occasional pickers. Total gold take similar to Big Bend but with fewer, larger pieces. Water levels can vary a fair bit here, especially when it's been raining upstream, so keep an eye on the water flow in your sluice. There are some decent spots to set up a sluice right under the pedestrian bridge as well as upstream depending on water levels. The other great option here is an electric high banker like the Gold Cube. Water flows and temps are fairly good here year-round. Finally, if you see a patch of light, blonde sand, that's probably road sand washed into the river from the streets, just dig past it to get to the pay layer. This IS a spot worth digging deeper so go for it. From a bit of sample panning: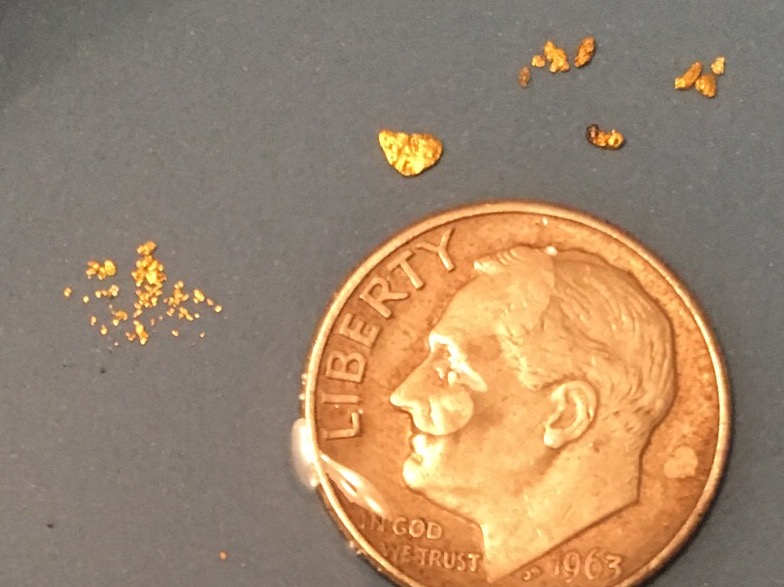 Note the wide range of sizes from -100 mesh up to a mini-picker.
Hungry after digging? You're fairly limited to fast food over at Evans and Broadway since this area is mostly commercial and residential buildings. I like to hit the Good Times at Broadway for a frozen custard after digging 🙂 There's also a retail pot shop just north of Evans on the East side of the river if that's your thing.
As always, I'm happy to field any questions you may have…now go dig!
This site costs money to keep up. The only way it pays for itself is shopping referrals. If you appreciate the info here, please click thru one of my Amazon ads the next time you want to shop online. It won't cost you anything extra and it keeps the site going:

Try Audible and Get Two Free Audiobooks