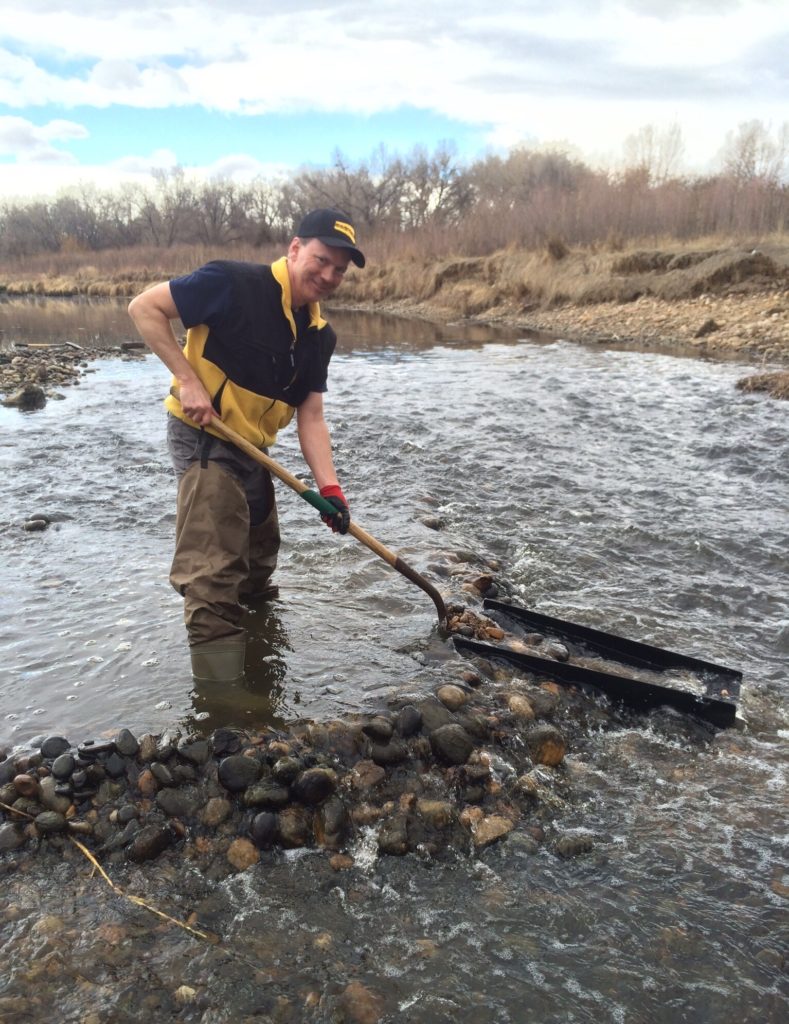 Your author doing some off season digging in Colorado. The trees are brown but the gold is still yellow!
Don't stop now! It's the perfect time of year to get out digging…of course I say that year-round so I'm not worried about when you stumble over this article.
In Colorado, many prospectors talk about their "prospecting season". Usually this is a window of time when water levels are lower and temps are warmer. That's fine but just not good enough for me and you don't have to settle for such a miserable existence either 😉
As I write this, it's the beginning of November and I've recently seen/heard several comments about the season ending (although in at least one case, the comment might be the person's way of making an excuse to go hunting 😉 ).
Reminder: I get referral fees for some products I mention but I never let that influence my recommendations or push up the price you pay.
As you can see in the pic above, I do make some accommodations for colder weather:
hip waders or even chest waders (buy one boot size size larger so there's room for thick warm socks)
fleece vest over a fast wicking shirt, sometimes adding a raincoat to help stay dry
long underwear bottoms and warm socks (no cotton)
a hat, sometimes a warmer one than this pic
gloves, often really warm ones meant for snow blower operation like these: snow blowing gloves at Amazon
pick a sunny, still day with peak temps over 40F (unless there aren't any and the gold fever comes on me)
start the dig day a bit later so the sun has time to warm things up at a little
and for safety both a prospecting buddy and a backup set of warm dry clothes in the car just in case you get dunked (I have a long tradition of falling in my holes so the waders are key, the dry clothes reassuring)
Why I love off season prospecting:
I get gold (duh, gotta love that!)
easy parking
access to the best spots, the water's low and no one got to the best spot ahead of me
Did I mention the water is low? Often SO low you can get to spots no one else ever hits such as behind boulders in midstream or in bedrock cracks at mid-river. Good gold, here we come!
Busting ice off the river to set up a sluice feels pretty "hard core" lol!
Have I said enough to convince you? I hope so…get out there!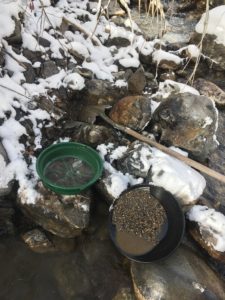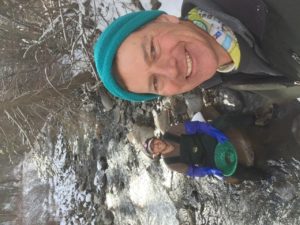 What tricks do you use to make off season prospecting work for you?
Here's some advanced tips from my readers (thanks all!):
– hand warmers…inside gloves or stuck to your chest/stomach (surprising how much that helps!)
– neoprene everything…I like the booties inside my waders for warm toes, I find I wear through the gloves too fast
– latex or similar gloves as glove liners, warmer and keeps your hands dry when you get water in your gloves (this ALWAYS happens to me!)
– a little backpacking camp-stove and some soup for a hot lunch (yum!!)
– added boot insulation: https://m.youtube.com/watch?v=n1lI05rlW24
Be sure to scroll to the bottom of this post for info on where to dig in winter near metro Denver.
This site costs money to keep up. The only way it makes money is shopping referrals. If you appreciate the info I'm sharing, please click thru one of my Amazon or Gold Cube ads the next time you want to shop online. It won't cost you anything extra and it keeps the site going:

Or just toss me a tip to say thanks at:
paypal.me/findingGOLDinCO
…thanks!
Want more gear tips? Check out this page http://findinggoldincolorado.com/recommended-products/
Here are some other articles on prospecting sites that are easy to access and work all winter:
Clear Creek in North metro Denver
Clear Creek Canyon Open Space Park
Big Bend on the South Platte River
And my all time winter favorite Arapahoe Bar which has good gold, shelter from any wind, good sun exposure AND water warmed by the heat exchangers Coors uses to cool freshly brewed beer!